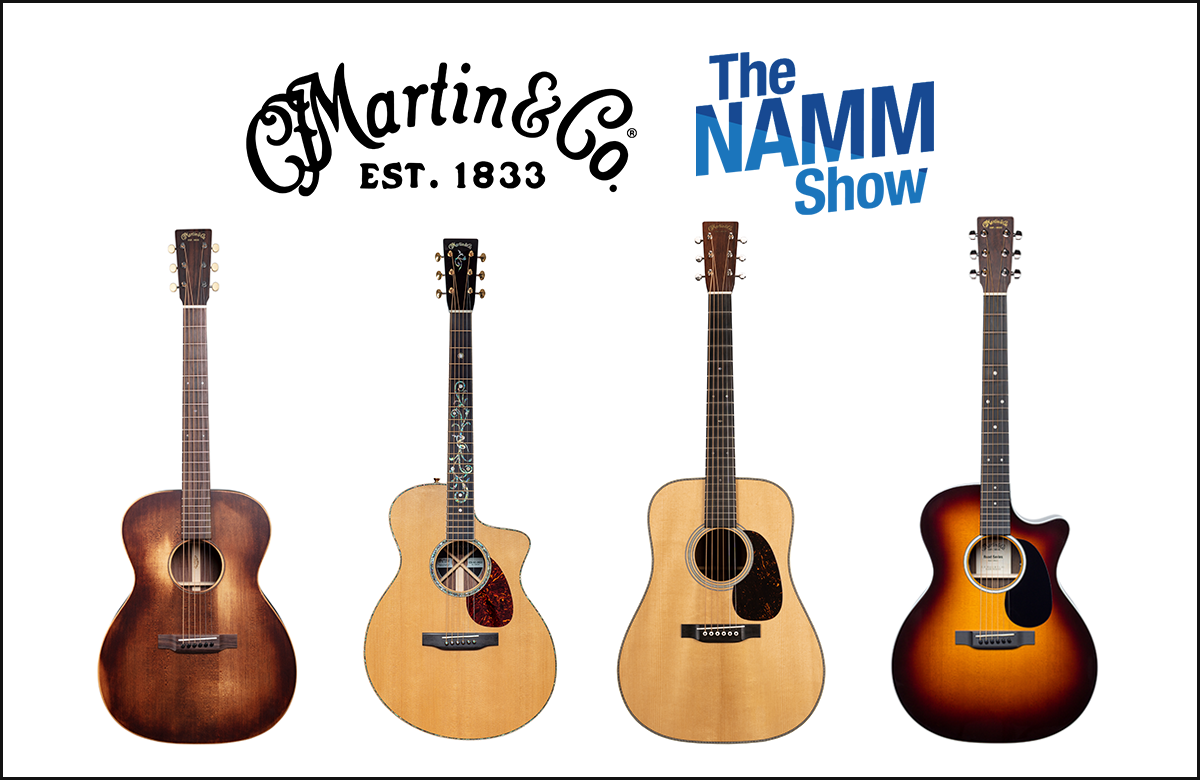 The 2022 NAMM Show in Anaheim, California is upon us, and Martin Guitar has officially launched several new models!
D-18 Authentic 1937
Here it is and about time too! The solid Genuine Mahogany dreadnought made in the close likeness of a fabled D-18 from 1937. And we mean it is more like one than even the D-18A 1937 that was around in 2005, before the Authentic Series was formed ten years later. This is the first time Martin is using the true silhouette to the body shape as a 1937 Martin dreadnought. It took them some time to perfect those subtle yet historic curves, but they have done it at last!


Martin D-18 Authentic 1937

Authentic Series features include a VTS Adirondack spruce for the soundboard and braces, placed in the forward-shifted position, one inch from the sound hole, carved and tucked in and around the period correct maple bridge plate, joined entirely with natural hot hide glue, under an extra-thin finish of natural nitrocellulose lacquer, buffed to the same Vintage Gloss sheen of a 1937 D-18 the day it was born. The neck is as close a copy of actual pre-war D-18 as possible, with a comfortable V shaping. The fingerboard has authentic vintage thickness, meaning it isn't very thick at all, just like the ebony bridge with its glued in long saddle.

The D-18 Authentic 1939, with its 1-11/16" neck and rearward-shifted braces, is certainly a wonderful guitar. But for those who have longed for a D-18A with the wider 1-3/4" nut width, and the forward-shifted bracing, the day has finally arrived. Get your order in ASAP, as you know the Custom Shop takes their time to craft these guitars with expert precision and a lot of love. So, the sooner you order one the sooner you will be loving it yourself.

D-28 Authentic 1937 (2002)
The first Martin in the Authentic Series to get a re-do, the D-28A 1937 is being refurbished and upgraded for NAMM 2022. One of the two major changes is the switch from Madagascar rosewood to Guatemalan rosewood. It is a worthy wood indeed that is replacing the dwindling supply of Madagascar rosewood, never likely to be seen again. Guatemalan rosewood is not only more environmentally friendly but looks great and sounds even better. Just ask guitarists like Laurence Juber and T Spoon Phillips, who each love their Guatemalan rosewood Martin, made for them in the same Custom Shop that crafts these amazing Authentics.


Martin D-28 Authentic 1937

The other significant change is the introduction of the new, historically accurate dreadnought body shape, which many vintage Martin purists have been asking for since the first Authentics were made nearly 20 years ago. The shoulders are a bit larger and sloped, the upper bout is a littler slimmer as it heads into the waist, and the bottom bout is a little boutier as the sides move away from the waist. In a word, perfection! Now the D-28 Authentic 1937 is even more exactly like the very special guitar owned by the Martin Museum and considered by many to be the best sounding acoustic guitar ever built.


Martin CS-SC-2022
CS- SC-2022
The CS-SC-2022 is the latest, greatest Martin guitar using the revolutionary SC body, with its asymmetrical shape and heelless Low Profile Velocity neck that attaches to the bottom at the 13th fret via the Martin-invented Sure Align Linear Dovetail neck joint. Like the groundbreaking SC-13E models and affordable SC-10E of the Martin's Road Series, this newest SC model is a hybrid acoustic-electric guitar that is packed full of special features.

Unlike other SC models, the CS-SC-2022 is made entirely by Martin's Custom Shop, in Nazareth, PA, out of solid tonewoods, and to specifications on par with classic Martins in the Standard Series (full gloss finished solid tonewoods,) Modern Deluxe Series (Liquidmetal bridge pins, wooden bindings, torrefied Adirondack spruce bracing,) and beyond (Golden Era Style 45 back strip, etc. etc.) It is a magnificent specimen of modern Martin engineering and craftsmanship.

The back and sides are made from luscious East Indian rosewood. The solid VTS Sitka spruce top is the first guitar made with Martin's newly patented asymmetrical Partial Soundboard Recurve for extra bass and is supported by hand shaped VTS Adirondack spruce Tone Tension bracing. The solid Genuine Mahogany neck has a solid ebony fingerboard, bound in Flamed European maple that continues all the way around the body, and inlaid with an elaborate botanical pattern of abalone and mother of pearl, in addition to the SC bullseye fret position markers. This is the first SC model to offer Fishman Aura technology in the onboard electronics, and the first Aura system with special integrated anti-feedback technology. For those who have wished Martin would make a hybrid acoustic-electric SC model with solid woods, right here in Pennsylvania, all we can say is "Ta-daaaaaaa!!!"

000-16 StreetMaster
That's right! The awesome distress finish invented for the mahogany top, sides, and back of the StreetMaster® models in the 15 Series is now available on a short-scale 000 made for the 16 Series, with its full scalloped bracing and spruce top. And this is not just any spruce. For the first time ever in the 16 Series, the Adirondack spruce used on the most coveted Martins is making an appearance on this very special guitar, in concert with East Indian rosewood back and sides! And all of that solid tonewood is is adorned with the super-cool StreetMaster® finish. Best of all, the Adirondack spruce top is treated with Martin's exclusive Vintage Tone System of wood torrefaction. By far, this is the most affordable Martin made with VTS Adirondack spruce, which is the perfect top wood for a rosewood sound chamber.


Martin 000-16 Streetmaster

GPC-13E Burst
One of the best-looking new Martins in a long time, the GPC-13E offers a Sitka spruce top with an awesome burst finish, and spectacular ziricote fine veneer adorning the sides and the wide back of this Grand Performance cutaway guitar. And all of it is under a full gloss lacquer! Extremely versatile, thanks to its nice bass, pronounced mids, and clear treble, and the extended fretboard thanks to the cutaway, it is a lot of Martin guitar for not a lot of money.

Speaking of versatility, the new GPC-13E is an acoustic-electric guitar with onboard Fishman MX-T electronics package with a volume and tone control inside the sound hole, along with a built-in turner that mutes your output while you tune up. Comes with a handsome softshell case.


Martin GPC-13E Burst

Martin Professional Ukuleles
Martin was the premiere ukulele in the Unites States since the early 1900s, when Hawaiian music took the nation by storm. Martin is again proving they make fantastic ukes with the release of three new instruments from which to choose.

Martin 0 Tenor Uke

0 Tenor Uke
The largest size uke made by Martin is the Tenor, with its full 17" string scale. This new uke is made with Sinker Mahogany all the way around, for full, resonant tone. It looks just like a vintage Martin uke, but comes with a modern soft gig bag to protect the thin satin finish.

Martin C1K Uke

C1 Uke
This affordable, professional-level uke is made in the popular Concert size, with beautiful koa fine veneer under a hand-rubbed finish. It offers balanced tone that won't break the bank. Comes with a high-quality gig bag.


Martin T1 Uke FSC

T1 Uke FSC
Martin has yet again joined forces with the Forest Stewardship Council, this time to create a full-size Tenor ukulele made with FSC-certified sapele back and sides, a strong neck of FSC-certified sipo, the densest species of African mahogany, along with an FSC-certified ebony fingerboard and bridge. This is the first uke also features black Ratio tuners, for fast turning accuracy, and comes with a blue gig bag created out of recycled plastic water bottles.

DSS Hops and Barley Limited Edition
Following in the tradition of the wonderful Martin Arts & Crafts models, this wood lover's dream is made from spectacular natural materials, with decorative trimmings inspired by the back-to-nature crops of the common man, barley and hops. The back and sides are constructed with highly figured black walnut grown right here in the USA. The top is rare sinker redwood from the Pacific northwest, recovered from bodies of water that changed the physical properties of the wood, such as its density and specific gravity.

According to our insider sources, these woods in combination with the large DSS size provide terrific volume with plenty of bass while remaining nicely balanced across the six strings. The slope shoulder dreadnought design has never been used on such a top-shelf Martin before now. A full dovetail neck joint, hot hide glue construction, and advanced Liquidmetal bridge pins guarantee the best tone production possible, which will be enjoyed for many years to come by the lucky 100 owners of this limited edition. That is, when they are not just placing the guitar in a showcase to admire its shapely loveliness. Then again, with the comfortable Modified Low Oval shape to the High Performance neck, they may not be able to put it down for long.

No expense has been spared in sourcing the beautiful wood here employed, like the European flamed maple bindings and trim, ebony bridge and fingerboard, and the Guatemalan rosewood used for the headstock plate and pickguard. A combination of wood and pearl realizes the intricate depictions of the ripe fruit and grain inlaid all over the instrument. The back strip and heel cap alone are a stunning work of the art and craft of guitar adornment. We hope to score ONE of these babies. So, contact us ASAP if you are interested in acquiring one for your collection!


Martin D-SS Hops & Barley
D-42 Special
Built with the same top-shelf materials as the Standard Series D-42, this very special limited edition features stunning artwork thought up and initially rendered by are long-time friend, Dick Boak. Long before he retired from Martin Guitar, this draftsman extraordinaire created an ornate botanical motif to possibly use on a pickguard, via the laser etching technology that was so new at the time it couldn't handle Dick's intricate design. He recently came across the original artwork and showed it to Chris Martin, who of course wanted to use it. This led to Martin and Boak collaborating with the inlay artisans of the world-renowned Pearlworks, to expand the design, and then recreate it all in gorgeous pearl inlays.

A D-42 with the highest-grade Sitka spruce for the top and forward-shifted scalloped braces, now made with glorious inlays that are as complexly beautiful as the voice of the guitar itself. Just so wonderful!

Martin D-42 Special
D-28 Rich Robinson
The music of the Black Crowes has soared across the airwaves for nearly 40 years, with much of it being composed on Rich Robinson's classic 1954 D-28. Now that 1950s cannon of a Martin has been recreated as a groundbreaking artist signature edition. This is the first guitar Martin has made for an artist using their cosmetic Aged techniques previous reserved for the Authentic Series historic replications of vintage Martins.

To capture the same seasoned look of Robinson's D-28, Martin's Custom Shop used a unique Aged Vintage gloss finish on the solid East Indian rosewood back and sides, to simulate the time-worn lacquer on the genuine article. The Aged Sitka spruce soundboard has ultra-thin vintage gloss as does the Aged Genuine Mahogany neck.

Period-correct specs include hide glue construction, and non-scalloped braces set in the reward position, providing the powerful Martin tone, vintage 1954. The 1-11/16" neck shape's barrel and heel were copied from Robinson's guitar, and the headstock replicates its rounded corners, caused by the templates used in that era. It even has Aged nickel tuning machines to that look just like the Kluson waffle tuners on the original headstock. Each D-28 Rich Robinson guitar includes a signed and numbered interior label.


Martin D-28 Rich Robinson

D-17 Squadron
Fans of airplane nose art will immediately recognize the exhaust ports of a World War II Era Curtiss P-40, with the wicked grin and intense staring eye found only on the planes of the intrepid fighter pilots known as the Flying Tigers. They helped save the world from tyranny and now, their iconic nose art is has been commemorated on this most-unique of Martin guitars.

The instrument is made with Style 17 specs, emulating mail order catalog guitars from the 1930s and '40s. But it is also the first 14-fret Dreadnought made with 17 Series techniques to have the traditional square shoulder body shape used in 1940. It has solid mahogany back and sides and a Sitka spruce top with forward-shifted scalloped braces, all under a very thin finish, to go along with the Depression Era rosewood bridge and fingerboard, and cream button tuning machines.

Maury's good friend Robert F. Goetzl is a remarkable artist, whose paintings have graced the Martin factory visitor's center, as well as many Martin special edition guitars. For this extra-special D-17, Robert used a new method, involving a surface area he constructed to evoke the look of an aircraft's fuselage, which he then painted on. It adds considerable realism to the textures and subtle shadows and shading. No photo can do these details justice, so you will have to see this guitar in person to fully appreciate the brilliance of the artwork.
Martin D-17 Squadron
Custom Major Kealakai
This must be the coolest Martin commemorative model ever! Based on a one-off special order built in 1916 for a superstar musician, this guitar's unique K body size has a large, slope-shoulder sound chamber made from rare Sinker Mahogany finished with maple stain. It otherwise has many Authentic Series features, like hide glue construction and VTS Adirondack spruce top and bracing, the latter laid out in the bracing pattern the retired 12-fret D-28 Authentic 1931. The neck also has the shape taken from that D-28A 1931, but the fingerboard has the dot pattern fret markers of a D-18 from that same year.

The ornate ebony bridge is the fanciest thing about looks, other than the mammoth tone produced by the cavernous sound chamber. It is all about great wood, including the figured Madagascar rosewood used for the bindings and headstock faceplate, which is left unadorned like a 1916 Martin should be. A modern compensated saddle ensures correct intonation across the fingerboard and the nickel side mount tuning machines with cream buttons look like they 106 years old, but work like they are brand new, because they are.

Major Kealakai was a superstar Hawaiian multi-instrumentalist when Martin agreed to make him a custom guitar unlike any that had come before it, way back in 1916. But Martin had forgotten all about it, until correspondence relating to the guitar was discovered in the company archives a few years ago. That rewrote the history books, as it is now known that Majro Kealakai's special order was the Ur-Dreadnought that all other Dreadnought models came from! They found enough detailed descriptions to recreate it, and then design this amazing commemorative model to sell to those fortunate enough to buy one.


Martin Custom Major Kealakai

D-Robert Goetzl 2 (Eagle) and D-Robert Goetzl 5 (White Tiger)
These two custom one-of-a-kind art guitars were created to honor treasured species from the animal kingdom and feature original artwork by artist Robert Goetzl hand-painted on the soundboard. One model features an American Eagle, and the other features a White Tiger. The D-Robert Goetzl models feature full-gloss finished East Indian rosewood back and sides with a Sitka spruce top and forward-shifted scalloped X-bracing for a full and balanced sound. They also include an ebony fingerboard and bridge and a stylized script logo on the headstock. Each model includes a paper label signed by the artist.
(images coming soon)
2.5 Millionth Martin
Of all the museum pieces Martin has created to commemorate various manufacturing milestones, none is as visually arresting as this new creation. Martin has partnered with Chris and Diane Martin's personal jeweler, Gary Werkheiser of Werkheiser Jewelers Ltd., in Bethlehem, PA to create an amazing musical instrument with an aesthetic motif to commemorate the night C. F. Martin Sr. arrived by sailing ship to the United States of American, November 6, 1833. In addition to its spectacular precious gems and stunning artwork, the guitar is made with extremely rare old-growth rosewood discovered in Belize. It is so awesome, we had to tell you about it, even though it is not for sale and will live forever in the Martin Museum.

However, they are making one exactly like it that will be for sale. Only, that guitar is made with Brazilian rosewood from C.F. Martin IV's private stash. They don't yet know how much it will cost or if they will sell it directly or put it up for auction. But insider estimates suggest that you could buy that guitar, or buy 10 D-18 Authentic 1937s and still have money left over. So, you might as well just get one of the Authentics to start with, from Maury's Music. The phone lines are open, the email is working. We look forward to your business!
(images coming soon)