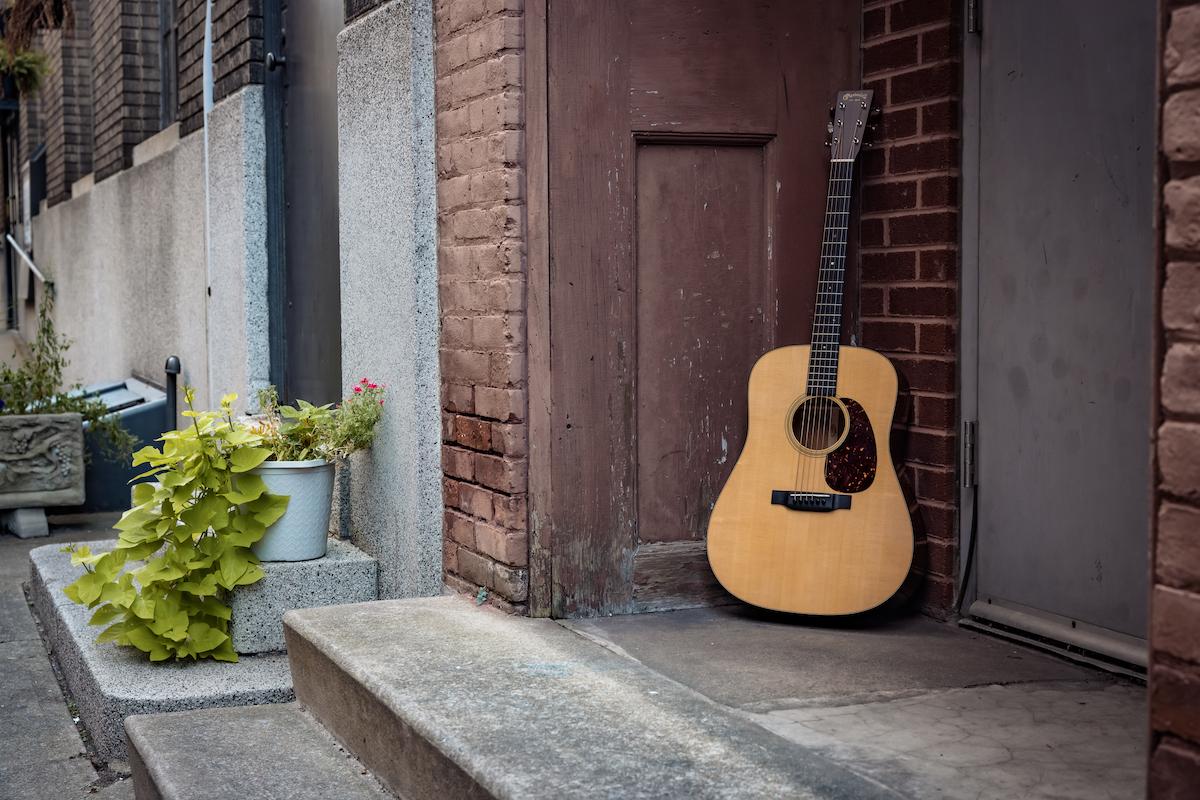 Why do Martin guitars sound so good? There is an old advertising slogan that went something like, "More people play a Martin or want to play a Martin than any other guitar." Certainly, Martin guitars are owned and played by countless professional musicians from the biggest stars to the anonymous studio session players that back them up on albums or play on the soundtrack scores of Hollywood films and television shows. The reason for this can be summed up in one word: Tone.

But our friend and Martin Guitars legend Dick Boak tended to use three words to describe why Martins are so very appreciated, "Tone, tone, tone." But why do Martins have such good tone? Martin guitars sound so good because of the way they are designed, the quality of their construction, and the expertise of the people who build them.

Having made musical instruments in America longer than any other company, Martin Guitars has 190 years of experience behind every instrument they produce today. They continue to innovate in all aspects of their business while remaining rooted in the traditions that led them to such prosperous and envied global status.
Perfection

When C. F. Martin Sr. came to America to open his shop in 1833, he made guitars in what is known as the Viennese style of his mentor Johann Georg Stauffer. Martin's guitars were acclaimed for their beautiful tone from the moment he started selling them from his New York City storefront.

Martin quickly began to experiment with various designs, adopting elements of Spanish luthiery in combination with Viennese traditions to ultimately create the uniquely American guitar. About that same time, he relocated to Nazareth, PA. His first house still stands, just around the corner from the present-day Martin factory.

C. F. Sr.'s most important and far-reaching invention is the now famous X bracing that would play such an important role in the evolution of the acoustic guitar once the steel string guitar era arrived in the early twentieth century, during the tenure of his grandson Frank Henry Martin.

As much a visionary as his grandfather, F. H. Martin oversaw the introduction of the large, modern body sizes, the 000 and Dreadnought, as well as the introduction of the revolutionary 14-fret Orchestra Models that were immediately copied by just about every steel string guitar maker in the world.

Standards of Excellence
Today, the classic models are listed as members of Martin's Standard Series. That's because they set the standard for what a professional-level acoustic guitar should be and the standard to which all other acoustic guitars must compare.

Standard Series Martins are made from all-solid tonewoods of the highest quality, carefully seasoned in the acclimation warehouse at the Martin factory in Nazareth, PA. These fine tonewoods include East Indian rosewood and Genuine mahogany back and sides that are topped with a soundboard of solid spruce with spruce braces laid out in the pattern invented by C. F. Martin Sr. and perfected for steel strings by his decedents.

From the smallest model, the 0-18, to the largest, the J-40, each Standard Series model is made with a traditional, full-size dovetail neck joint that ensures maximum energy transference from the neck to the body for a fuller, richer tone with an outstanding purity to the notes than cannot be achieved through other types of neck joints.

The larger body sizes, M, D, and J have forward-shifted braces for enhanced bass response. The smaller body sizes, 0, 00, 00L, 000 and OM have scalloped bracing for responsive soundboards and increased tonal resonance, as do many of the larger sizes.

Vintage Vitality, Magnificent Modernity
The Authentic Series offers the most accurate recreations of the awesome vintage Martins from the first 14-fret models from the 1930s. These instruments are made with Adirondack spruce with the added innovation Martin's Vintage Tone System, or VTS, a propriety torrefaction treatment that "ages" the spruce until it behaves like a soundboard that is some eighty years old. They are also constructed with traditional hide glue and thinner finish among the many vintage Martin specifications.

The Modern Deluxe Series models combine traditional Martin quality with features like the full-size dovetail neck joint and Golden Era style bracing with ultramodern enhancements including VTS spruce tops, a composite carbon fiber bridge plate, EVO copper alloy frets, and Liquidmetal bridge pins. The Modern Deluxe models are aptly named and have a tone all their own.

Best Tone for the Best Value
While not made exactly the same as the Standard Series instruments, guitars in the 16 Series, 17 Series, and 15 Series are constructed of solid tonewoods by the same craftspeople at the Martin factory in Nazareth, Pennsylvania. The 16 Series offers acoustic-electric instruments designed for touring musicians, all made with 000 side depth no matter how large a soundboard, for player comfort and amplification feedback control. The 17 Series offers lightly finished acoustic guitars with uniquely vintage vibes and brighter tone. The 15 Series are made with mahogany tops, backs, and sides, for mellower, woodier tone.

Martin makes guitars to fit the budget of most every musician. The Road Series offers the best bang for the buck when it comes to acoustic-electric instruments and the X Series guitars have very pretty tone that is had for the best price possible, with the best tone in its price range compared to other brands.

While not all created equally, each model in a given series is made as good as possible within it's respective price range, especially when compared to other brands. Martins sound so good because they are made so good.